The rise of freelancing and personal brand marketing
Large companies, small businesses, and freelancers alike all need to generate leads and maintain customers to keep revenue coming in. On an individual level, freelancers are more acutely aware of this need than the average employee with a steady and reliable wage, as their salaries are directly dependent on it.
The need for leads may be even greater if going freelance wasn't planned. Sara Horowitz, founder of the Freelancers Union in the United States, notes in the Harvard Business Review that "Going out on your own isn't always a deliberate choice."
While the move towards freelancing was already on the rise, it has been spurred on by the pandemic. Already in 2016, McKinsey suggested that there were several forces that "could fuel growth in the independent workforce," including " large unemployed and inactive populations who want to work."
Then in June of 2020, McKinsey estimated "that nearly 59 million European jobs, or 26 percent of the total, are at risk in the short-term through reductions in hours or pay, temporary furloughs, or permanent layoffs."
Whether freelancers have been thrust into this new lifestyle or they have consciously made the switch, they now have additional tasks to pay attention to and take care of on top of the work they already do for freelance projects. These tasks include but are not limited to: self-management, accounting, networking, lead generation, and personal branding.
The article Are you ready to go freelance? in the Harvard Business Review stresses the importance of proactivity for freelancers and emphasizes that "Working on your own means that you alone are tasked with developing, sustaining, and communicating your professional identity, your personal brand."
So whether you are a newly-minted or an established freelancer looking for new ideas and avenues of interest, there are some important questions to ask before creating your marketing content. They include: How are other freelancers generating leads? What kind of business content is being created to promote personal branding? Which types of marketing campaigns are other freelancers running?
And if you are a digital service provider for small and medium enterprises (SMEs) and interested in the freelance sector, an important question to ask is: Can your product or service help freelancers? Or are there other areas of untapped potential to explore?
Market Research: European freelancers
To get a better understanding of the emerging European freelance market, my team from Mono Solutions and with help from Localogy we conducted interviews in April 2021 with 553 full-time freelancers located in the United Kingdom, Germany, and Sweden. The report – Are freelancers the long-tail channel of the future? – was published in May 2021. 
One key area of interest in the study was how freelancers market their businesses. The report details which tools freelancers use for marketing, and whether freelancers have a do-it-yourself (DIY) approach to creating marketing content or if they use external providers.
Read it yourself: Find the report here.
Age determines how freelancers generate and maintain leads for their business
With the rise of the digital era and the connected world, freelancers have a wealth of tools at their disposal to generate and maintain leads. We learned that there are generational differences in technology comfort levels. When generating new leads, younger freelancers tend to use freelancing platforms and social media more than their older counterparts.
Freelancers use a variety of tools to promote their business; with business websites (85%), blogs (61%), social media channels (55%), and newsletters (47%) as the most used amongst the freelancers surveyed.
While there was not too much distinction between the age groups in terms of business content used, the generational differences were much more pronounced in terms of willingness to create do-it-yourself content; which can be seen in the figure below.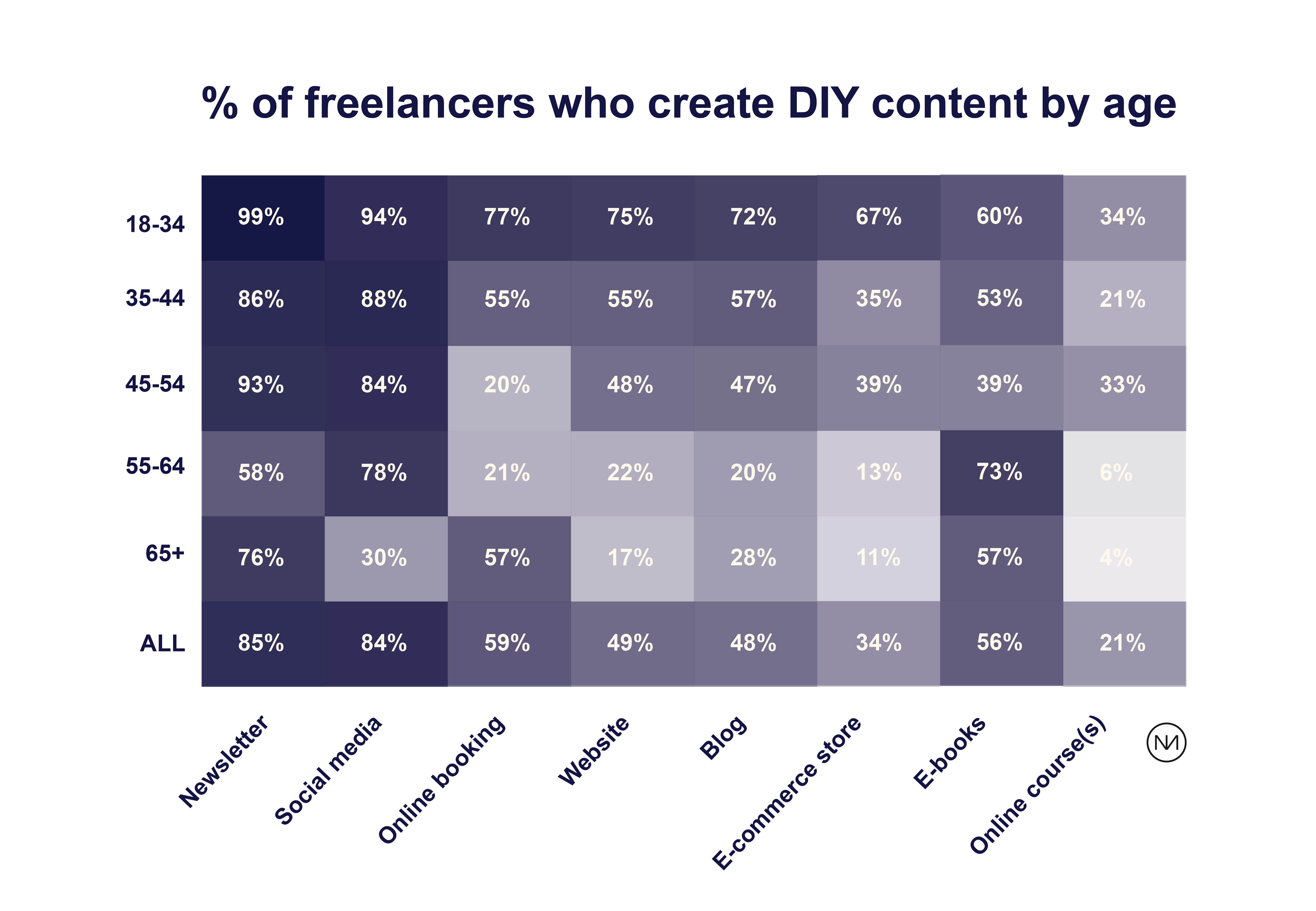 On the whole, freelancers are willing to create their own content with DIY tools – as long as it is not too technical. However, younger freelancers tend to be more comfortable creating website and blog content, while older freelancers would prefer to have help.
What kinds of campaigns do freelancers run for their business?
Out of the freelancers surveyed, less than half have run marketing campaigns for their business. Of the campaigns freelancers have run, top campaigns include Google Ads, social media, and newsletter campaigns.
In terms of running campaigns themselves, you can see in the figure below that younger freelancers are again more willing to run the campaigns on their own, while older freelancers would prefer help.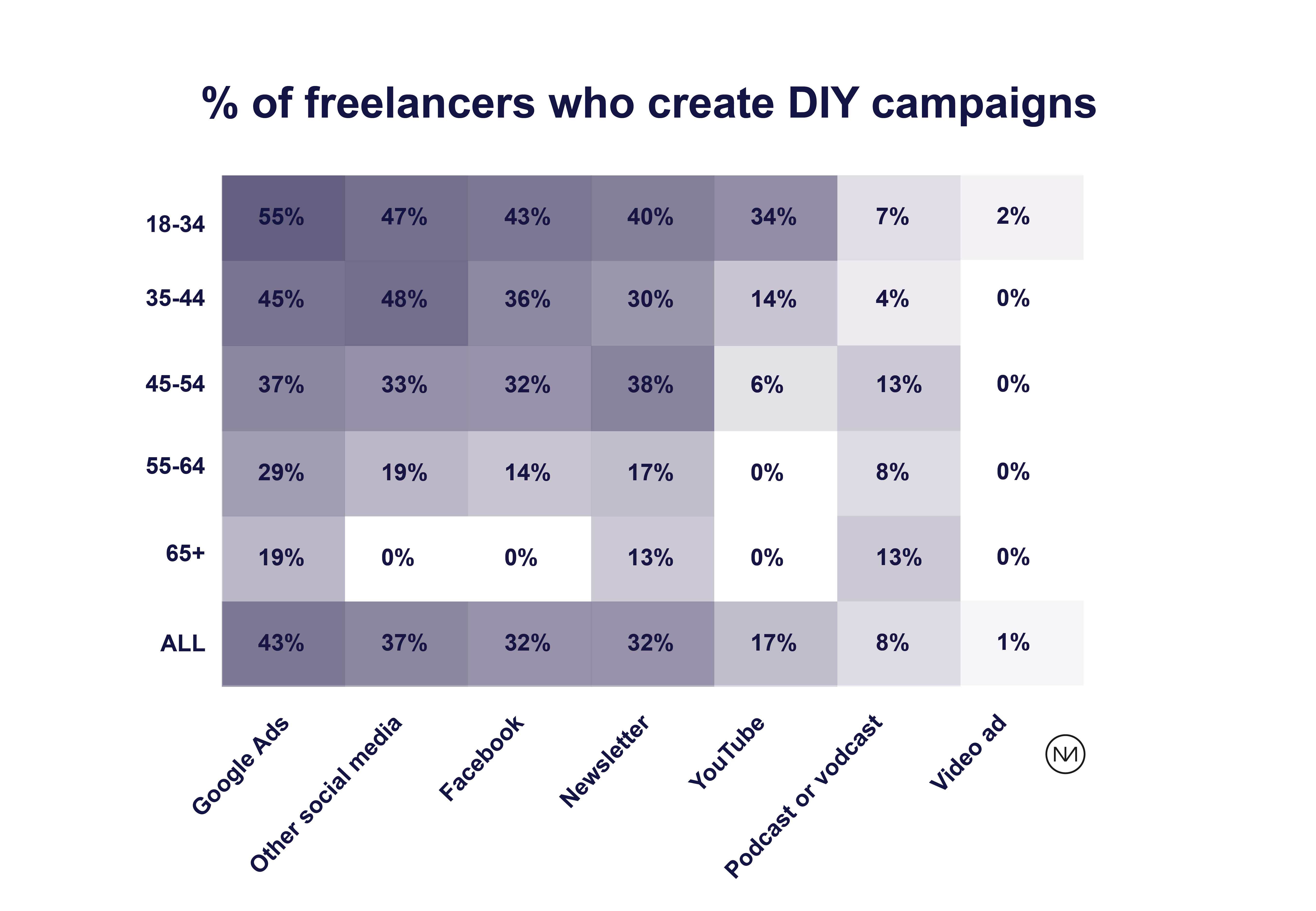 So what does this mean for you?
If you are a freelancer, you can see how your own personal branding stacks up compared to other freelancers and explore new avenues of untapped potential.
If you provide digital products like websites, online booking, e-commerce or services like SEO, graphic design, and advertisement, then this report is a great asset for you to understand the freelance landscape better and see who you can help with your product or service.
Learn more about the marketing assets freelancers need from digital service providers and much more here.
Want to learn more about freelancers?
Watch this free on-demand webinar with me and my team from Mono Solutions→
This article was first published on monosolutions.com where you can download the full report and learn more